Project: Gennady Perepada
Elevating Personal Branding: A Digital Journey with Gennady Perepada
Scope:
Discovery
Web Design
Lifestyle Photography
Real Estate Photography
Real Estate Videography
Photo Editing
Video Editing
Photoshop
Overview:
Gennady Perepada, an immigrant from Ukraine who arrived in the United States in 1990, quickly developed a passion for real estate. With over 25 years of expertise in luxury real estate, he is renowned for his exceptional listening and communication skills, along with his ability to understand and anticipate client needs. Seeking to amplify his influence in NYC's international markets, Mr. Perepada partnered with our web design personal branding agency for a transformative digital journey. His goal was to establish a compelling online presence that reflects his esteemed reputation, showcases notable achievements, and fosters connections with potential clients for consulting inquiries.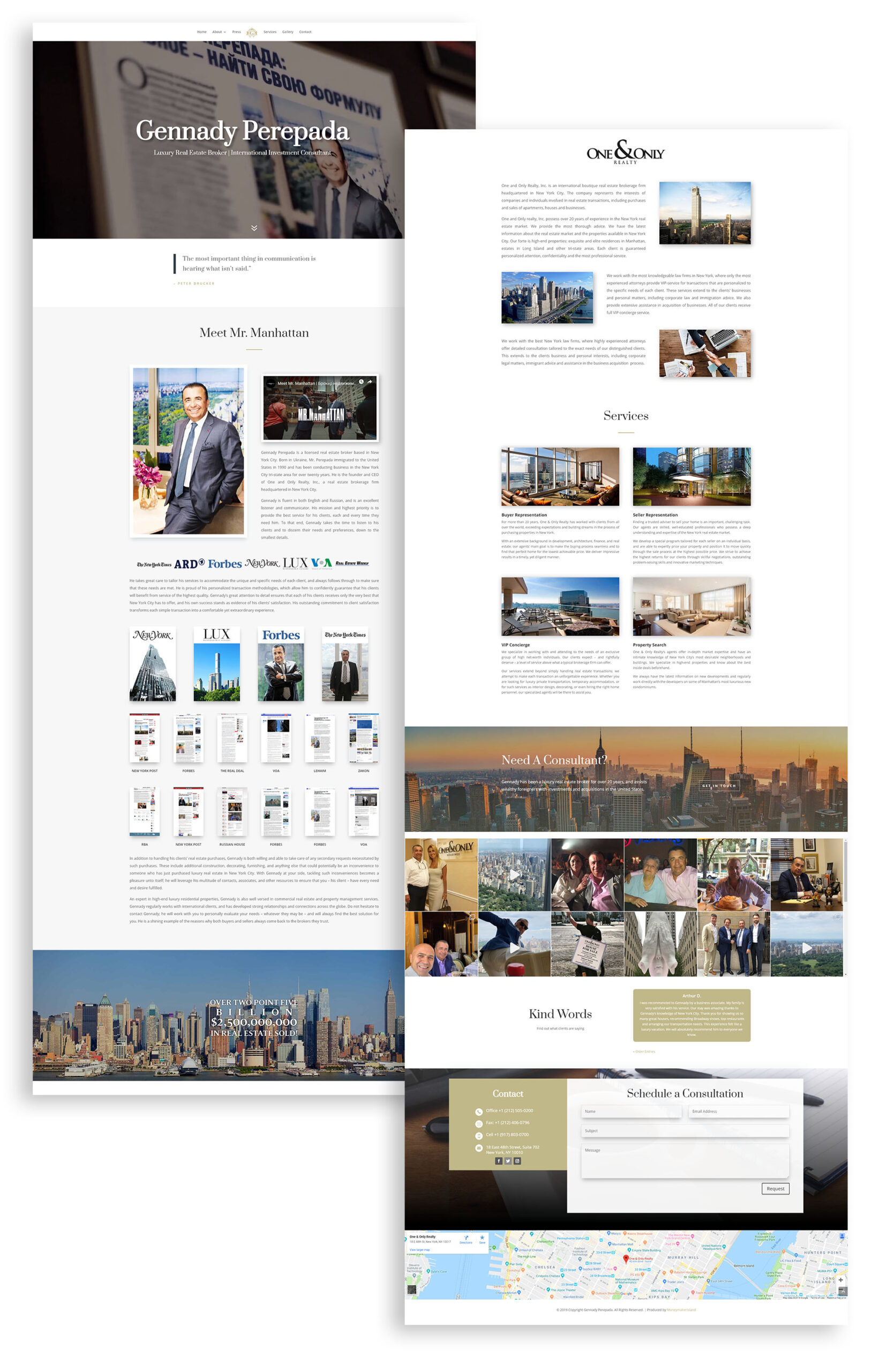 Elevating Luxury Real Estate & Personal Brand
Objective:
Our year-long collaboration with Mr. Gennady Perepada, owner of One & Only Realty, aimed to create an exclusive and captivating media experience for showcasing his ultra-luxurious real estate listings in New York City. The project focused on elevating the allure of the properties and building Mr. Perepada's personal brand as a prominent figure in the luxury real estate market.
Approach:
We adopted a comprehensive media production approach, incorporating commercial real estate photography to highlight architectural features and exquisite details. Lifestyle video production engaged potential buyers emotionally by portraying the luxurious living experience within the properties. The inclusion of highly exclusive aerial drone footage, a rare feat in NYC, provided a unique perspective of the listings and their surroundings.
Results:
Our premium media content significantly enhanced the promotion of Mr. Perepada's luxury real estate listings, sparking global interest among high-net-worth individuals. Simultaneously, the project successfully strengthened his personal brand, positioning him as a leading authority in the luxury real estate market and earning recognition from clients and industry peers alike.
Impact:
The collaboration exemplified the power of professional media production in elevating luxury real estate marketing and personal branding. By offering potential buyers an immersive glimpse into the exclusive lifestyle offered by the properties, we created a lasting impact and generated heightened interest, ultimately contributing to successful real estate transactions.