Project: Mr. Mudrik (2018)
Elevating Credibility: Creating a Personal Brand for a Real Estate Agent
Scope:
Discovery
Web Design
Videography
Video Editing
Photo Editing
Graphic Design
Lifestyle Photography
Overview:
In 2018, Mikhail Mudrik, an upcoming New York real estate agent, envisioned enhancing his career by establishing a professional online presence that truly embodied his brand and personality. He desired a platform that would showcase the neighborhoods he specialized in, the types of clientele he served, and his lifestyle. Additionally, he sought to consolidate all his video content in one place to generate leads for his business. He entrusted us with the task of building the website, creating a brand identity, and designing a logo that would authentically reflect his unique style. Over the course of one month, we produced captivating social media videos and lifestyle images, culminating in a successful website launch. The website garnered widespread awareness and received numerous compliments from his colleagues, solidifying the project's triumph.
Brand Identity + Web Design
We meticulously crafted a professional, sleek landing page website that not only introduced him to prospective clients but also immediately established his credibility. The minimalistic design elegantly showcased his identity, providing a compelling platform where visitors could learn more about him and the value he offers. This powerful online presence now serves as an effective tool for him to connect with potential clients and demonstrate how he can be of assistance.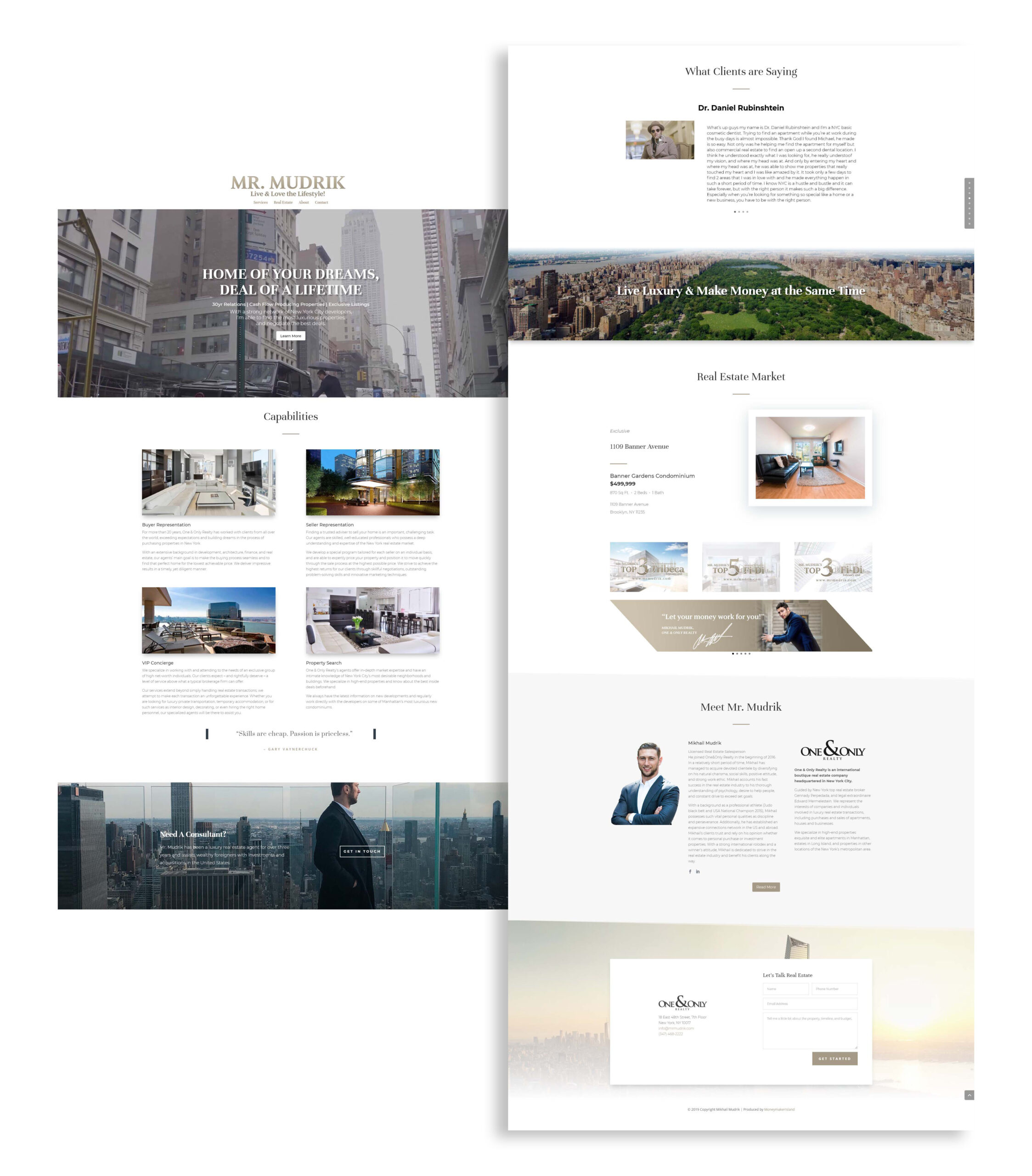 Lifestyle Photography
Our lifestyle photography service provided a tailored solution for his real estate-related needs. Within a one-hour session, we captured a diverse array of lifestyle images, carefully curated for use on his website, social media, and marketing materials, enhancing his online presence and captivating his target audience.
Social Media Videos
We explored various neighborhoods, producing engaging social media videos. These captivating videos highlighted the best aspects of each area, while our client's charismatic presence and thoughtful inquiries reinforced his distinctive personal brand. As a result, our efforts significantly bolstered our client's online presence and fostered a strong, meaningful connection with the target audience.