Project: Collins Gym
Lifestyle Video Generates 700% Sign-ups for Nonexistent Miami Gym!
Scope:
Discovery
Marketing Strategy
Asset Curation
Video Editing
Copywriting
Facebook Ads
Web Design
Graphic Design
In early 2023, I had the pleasure of working with a gym owner in the North Beach neighborhood of Miami. He was looking to open a bigger and better gym, one with lots of amenities, equipment, a health bar, and classroom spaces on a grand scale. As the area lacked any fitness gyms, he saw this as an opportunity and needed financing from investors to make it happen. To secure the financing, the investors needed to see market demands, potential revenue, costs, profits, and the number of people interested in this gym.
Goals:
Achieve at least gym 300 sign-ups with a 1% click-through rate (CTR) from Facebook Ads within one month.
Running Facebook ads for a non-existent gym with no visual assets. We aimed to create excitement and interest in potential customers. However, using stock photos and videos made the ad appear spammy and untrustworthy. We needed to find a way to connect with the audience and establish credibility.
We started with a Discovery session by gathering important information about the gym owner's current business, demographics, and their customer value, which helped us identify the ideal target customer to put together a winning advertising campaign.
During our research, we collected information about the new business, including the cost of membership and special amenities offered. This gave us ideas for the promotional video and allowed us to create an advertising budget with minimal risk.
We discovered that the gym's membership fee would be $100 per month. Therefore, we came up with an advertising budget of $1200, which would cover the cost of acquiring at least one customer. Now we had to create an offer so good people would feel stupid to saying no ($100M Offers by Alex Hormozi).
"One month of free gym membership if you pre-register NOW"
Based on my experience running local ads, I knew that using stock footage would cause instant distrust. If we could instead show footage of the actual neighborhood, we would win people over and create better engagement.
Fortunately, I had drone footage of the street where the gym would be located, as well as lifestyle footage from a previous project featuring the only workout station in the area. By starting the video with recognizable lifestyle shots, we established credibility for the ad. This made me confident that we could use stock footage for the rest of the video without losing the viewer's interest, since their trust had already been established.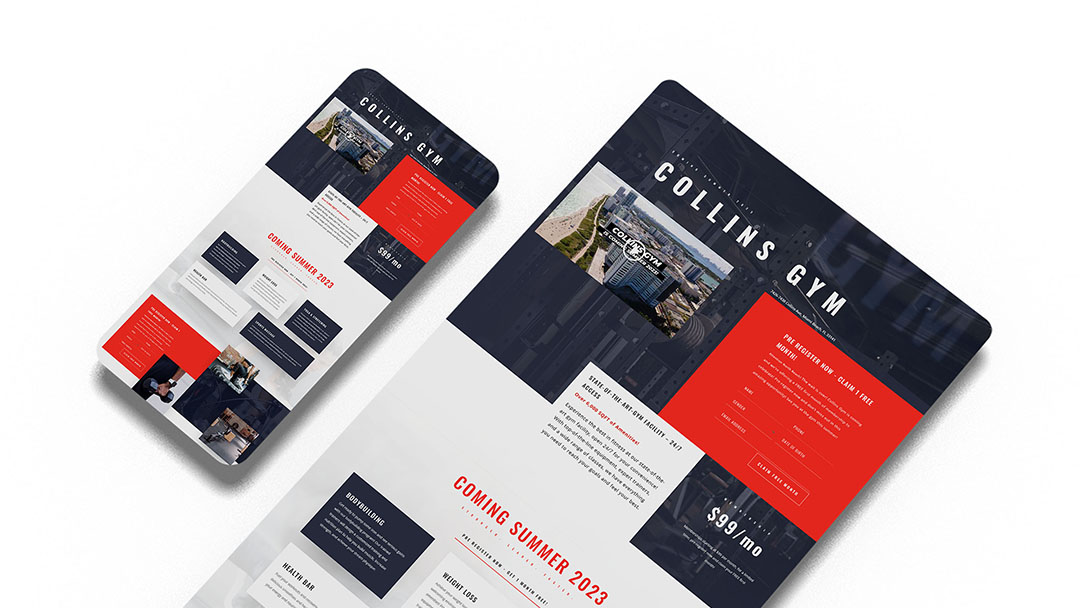 To add an extra layer of credibility, we created a professional web landing page showcasing what the gym had to offer, along with visible pricing to create a sense of urgency and demonstrate that potential customers were getting a great deal. We also added lead forms to the website as a backup option in case people didn't sign up on Facebook. This gave us another way to capture leads and saved us money if they signed up directly on the website.
Finally, we set up a Facebook Ads Lead form campaign to run our lifestyle promo video within a 1.5 mile radius of the gym, targeting roughly 30,000 people living in that area.
Results:
In the end, we only spent $885 and generated 427 gym sign-ups. Of the total sign-ups, 311 came from Facebook and 116 came from the website. We saved the client a grand total of $634 and achieved a click-through rate (CTR) of 7%, which is a 700% improvement compared to the previous rate of 1%.
(CTR stands for click-through rate and measures how many people viewed an ad and clicked on it. A good CTR is considered 1% or higher, with 2% being excellent. A CTR of 7% is considered unimaginable, but we were able to achieve it.)

The campaign was a great success, and the client is now in the process of securing funds to make their dream gym a reality. This project is an excellent example of how incorporating lifestyle video into your advertising campaigns can create a deeper connection with your audience, leading them to take greater action with your business!