DJI Air 2s: The Ultimate Real Estate Drone for 2023
By Michael Shatravka | March 6th, 2023
Looking for the ultimate real estate drone for 2023 that will help take your photography and videography to the next level? Look no further than the DJI Air 2s. With its lightweight design, long battery life, impressive video quality, and 6K flexibility in editing and cropping, this drone is the ultimate tool for capturing stunning footage. Whether you're a beginner or a pro, the DJI Air 2s is the perfect drone to elevate your real estate and lifestyle branding content to new heights! In this post, we'll take a closer look at why the DJI Air 2s is still the ultimate real estate drone in 2023.
Lightweight Design and Long Battery Life
The DJI Air 2s is incredibly lightweight, making it easy to carry around when you're on location. This is especially important when you need to be mobile and ready to capture footage quickly. In addition, the drone has a 30 minute battery life, which is more than enough time to capture an entire listing, neighborhood, and some lifestyle branding shots for the agent.
Impressive Video Quality
One of the main advantages of the DJI Air 2s is its outstanding video quality. The footage is incredibly sharp, with vivid colors and excellent contrast. This is thanks to its 10-bit color and 6K resolution, which provide a large frame size and plenty of flexibility in editing and cropping without losing quality. You can even use the video stills as high-quality images, which is a major advantage for those who need to use their drone footage for print marketing materials.
Flexibility in Editing and Cropping
Thanks to its large frame size, the DJI Air 2s provides plenty of flexibility in editing and cropping. You can zoom in and out, reframe shots, and stabilize footage easily. This means that if you miss a shot or need to tweak it, you have plenty of flexibility to do so. You can even cut the footage for vertical format and it will still look super sharp and clean.
Professional and Clean Footage
The DJI Air 2s is a great option for those who need to capture footage for professional use. Its 10-bit color and 6K resolution provide a professional and clean look that is perfect for real estate listings and lifestyle personal branding content. You can use the footage for both social media and print materials. As a bonus, the DJI Air 2s is reasonably priced, which is a huge plus if you're just starting out with drone photography or videography.
Conclusion
If you're looking for a reliable and versatile drone that won't break the bank, the DJI Air 2s is definitely worth considering. Its lightweight design, long battery life, and high-quality footage and stills make it a great option for those who need to capture footage on the go. Whether you're shooting for real estate or lifestyle content, the DJI Air 2s provides plenty of flexibility and professional-quality footage that will make your work stand out.
Check out my 2022 luxury real estate demo reel all of this drone footage was shot on the DJI Air 2s!
What is the difference between the DJI Air 2S and the DJI Air 2?
The DJI Air 2S is the upgraded version of the DJI Air 2. In fact, DJI discontinued making the Air 2 because the Air 2S is far superior. The Air 2S has 6K quality versus 4K, longer battery life, faster flying speeds, and better obstacle avoidance. Don't waste your money on the DJI Air 2, get the Air 2S instead.
How high and far can the DJI Air 2S fly?
From my experience flying this drone in outdoor rural environments, for example, when I was in Colombia with Open Fields and mountains, I was able to fly up to 4 or 5,000 ft without any interference. The only problem is flying back and having enough battery life. Flying in an urban environment is a whole different story because you have legal regulations, signal interferences, people walking around, obstacles. It's a lot more dangerous to fly and usually, when I'm shooting in New York, the max distance I can get is usually around a thousand feet. In some areas, it is legally not allowed to fly more than 100 ft and in some areas, you can't even lift the drone up off the ground. But overall, flying in Florida, I'm usually able to get up to 15,000 ft in flight distance but the signal quality starts to get choppy so usually, I try to keep it around 500 ft. Always remember to keep your drone in your line of sight! One word of advice is to never fly around buildings because you will lose signal and possibly lose your drone!
What is the maximum speed of the DJI Air 2S?
When I put it in sports mode, it gets around 35 to 40 mph. But if you're looking to get those cinematic commercial shots, you want to actually put this thing in the slowest speed it can be in, around 0.1 miles per hour. That's how you get those butter-smooth magic shots. This drone is not meant for high speed, if you're looking for that, pick up a DJI FPV drone that goes up to 90 miles an hour.
How do you shoot lifestyle social media content with this drone?
Disable the sensors. This will require a level of experience flying the drone. I'd say it took me at least 100 hours to get comfortable flying close to people, controlling the drone, and working in tight, close proximity environments. If you are still a beginner and want to shoot this type of content for people, I would recommend being in a more open space so you don't risk crashing your drone.
DJI Air 2S or Mavic 2 Pro?
If you're trying to decide between the two, I would go with the DJI Air 2S. It is superior to the Mavic 2 Pro in quality and resolution. The one thing that I actually did not like about the Mavic 2 Pro was that it kept giving me this green-colored calibration on all my footage, and I had to color-correct it in post. If you're able to find a Mavic 2 Pro for a few hundred bucks, then get it, otherwise, the DJI Air 2S is a hundred times better.
How is the DJI Air 2S in windy conditions?
It's a pretty strong drone. I've flown it dozens of times in super windy conditions by the ocean at a thousand-plus feet, shooting luxury penthouses. You can definitely get away with shooting wide-angle shots of a building, but shooting lifestyle up-close content when windy is not recommended. Fly at your own risk.
How long does it take to charge the DJI Air 2S batteries?
I would say about 30 minutes per battery.
Is the DJI Air 2S waterproof?
I have flown it while it was drizzling before the rain, but I'm pretty sure it's not waterproof.
Can the DJI Air 2S be used for professional commercial work?
Absolutely. I've used it for commercial lifestyle campaigns, as well as shooting multi-million dollar sky mansions.
Can the DJI Air 2S be flown indoors?
Yes, but I do not recommend it because of the low light conditions. The quality of the footage will not look good.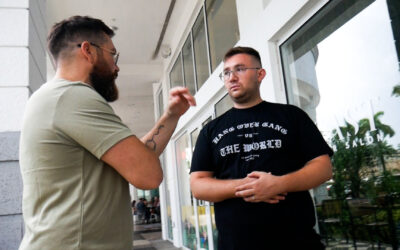 Discover the 10 common challenges of content creation and how to overcome them. Essential reading for entrepreneurs.